The Revolution of Georges Cabanis: A Forgotten Education Reform in Post-Enlightenment France
Keywords:
Georges Cabanis, French education reform, Higher education Brazil, Medical education reform
Synopsis
Professor Almeida Filho presents a more detailed assessment of his preliminary hypothesis regarding the roots of the higher education system of contemporary Brazil. He analyzes the direct and indirect effects of the Cabanis Reform in configuring the higher education model which became hegemonic in Latin-American countries, as illustrated by the case of Brazil. In the first part, he briefly discusses the social, ideological, and institutional framework that, simultaneously, restructured the national education system, the health care model, and the new imperial higher education program in post-revolutionary France. With this aim, he presents a summary of biography and oeuvre of Georges Cabanis, with a focus on his forgotten role as a successful reformer of educational systems. Secondly, he discusses the main points of the new organization of the health system and medical education, led by Cabanis and colleagues, highlighting conceptual dimensions, especially in relation to its potential articulation with the education system in general. Third, he outlines curricular and pedagogical aspects of the medical education model based on professionalism, disciplines, and specialization that resulted in a system of higher education without universities. Historical events related to the reorganization of the French education system, in the context of social reforms that began in the Consulate regime, consolidated in the Empire, and were maintained in the Restoration, are described.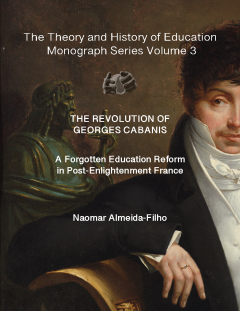 Downloads
Copyright (c) 2022 Naomar Almeida Filho
License
This work is licensed under a Creative Commons Attribution 4.0 International License.